Revitalize Your Oral Health with Windermere Periodontal Therapy
Do your gums regularly bleed when you brush and floss at home every night? Does the tissue surrounding your teeth seem overly red or swollen? These are notable signs of periodontal (gum) disease, an extremely common infection that can wreak havoc on your oral health if left untreated for too long. At Windermere Dentistry, Dr. McKissock, Dr. Thakkar, and the rest of our dedicated staff will be sure to diagnose the presence of periodontal disease as early as possible during routine appointments, and we ask that you contact us right away here in Windermere, FL if you notice any troubling symptoms that could point towards an oral health problem.
---
How Do You Treat Periodontal Disease?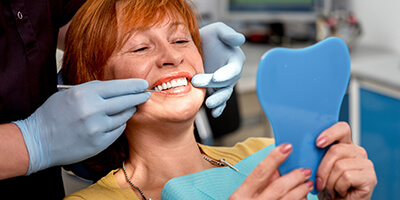 Our most common recommendation for periodontal treatment is scaling and root planing, which is an in-depth cleaning that specifically targets infectious bacteria beneath the gum line. Our team will also smooth the rough tooth root surfaces, which are prime breeding grounds for plaque accumulation.
In most cases, we will recommend antibiotic therapy with ARESTIN following scaling and root planing or even as its own worthwhile service. This medication is directly applied to the periodontal pockets and other vulnerable areas in order to target and eliminate dangerous bacteria. Our goal is to replenish your oral health as effectively as possible!