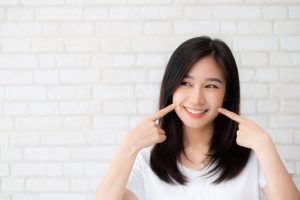 October is here, meaning fall is officially upon us. Halloween is right around the corner and the weather has finally cooled off; but did you know that it's also National Dental Hygiene Month? Maintaining a healthy and happy mouth doesn't take much effort, and this month is the perfect opportunity to get your smile back on track. Here are 6 tips from your dentist to help you out!
1. Brush Your Teeth Before Bed
It's no secret that you're supposed to brush your teeth twice a day—but many people still neglect brushing before going to bed! Brushing before bedtime helps to get rid of germs and plaque that accumulate in your mouth throughout the day. This greatly reduces the risk of tooth decay, cavities, gum disease, and other oral health concerns.
2. Use A Proper Brushing Technique
Brushing regularly is important, but so is brushing correctly! If you fail to use the proper technique, you can end up doing more harm than good. Here's how you should brush:
Hold your toothbrush at a 45-degree angle to your gums.
Use gentle, circular motions to brush the outer surfaces of your teeth. Don't use a sawing motion.
To clean the inner surfaces of your teeth, tilt your toothbrush vertically and use up-and-down strokes.
Take your time; it's not a race! Spend about 2 minutes brushing.
3. Don't Skip Out on Flossing
Many people who brush regularly still neglect to floss, but flossing is just as important! Not only is it important for dislodging pieces of food stuck between your teeth, but it also helps to stimulate the gums, reducing inflammation and plaque buildup. Flossing can sometimes be tricky, but there are many options that make the process easier including dental flossers and Waterpiks.
4. Consider Mouthwash
Mouthwash improves your oral health in three primary ways: it reduces the amount of acid in your mouth, cleans hard-to-brush areas around your gums, and re-mineralizes your teeth. Mouthwashes can be especially useful for children or older people, where the ability to brush and floss might not be ideal.
5. Drink Water and Eat Healthy Foods
A healthy diet goes a long way towards protecting your overall health, including your oral health. Drink plenty of water; it's the absolute best beverage for your body! A good rule of thumb is to drink water after every meal—this can help to wash out some of the negative effects of sticky or acidic foods and drinks.
Fresh, crunchy produce doesn't just taste great; it's also very good for you! Fruits and vegetables contain lots of fiber and chewing them also provides healthy stimulation for your jaws. Avoid overly processed, sugary, and convenient ready-to-eat foods when possible.
6. Regularly Visit Your Dentist
Practicing good habits is important, but you should still visit your dentist twice a year. These biannual visits allow your dentist to inspect your mouth and clean your teeth, which is very important for preventing serious problems from developing.
This October, consider why you might want to practice good oral hygiene; a little effort can go a long way towards preventing serious problems and providing you with a dazzling smile you'll be proud of.
About the Practice
Windermere Dentistry serves the dental needs of patients in the Windermere community under the leadership of Dr. Matthew McKissock and Dr. Rupal Thakkar, who have decades of combined experience and expertise in many fields! Their practice is proud to offer a variety of available preventive, restorative, and cosmetic services among others. If you would like to schedule an appointment, you can do so online or by phone: (407) 909-1099.