All-on-4 – Windermere, FL
When you're limited by a missing arch of natural teeth, dental implants can make a big difference, but what if you're told you can't get them? Sometimes bone loss in the jaw has already reached a point where there's just not enough density for the procedure; you'll likely be told you need bone grafts. However, at Windermere Dentistry, Dr. McKissock can use the All-on-4 technique to give a wider range of patients the option to enjoy stronger, healthier smiles with dental implants.
---
HOW DO ALL-ON-4 IMPLANTS WORK?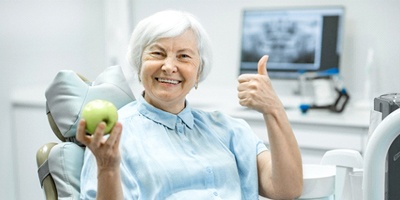 The key to All-on-4 dental implants in Windermere is the fact that some areas of the jawbone have a naturally higher density than others. Two of the implants are inserted near the front of the mouth while the others will be located near the back. The posterior implants are placed at a 30 to 45-degree angle so that they take advantage of the greater bone mass near the front of the jaw. This flexibility lets us overcome any deterioration or anatomical problems with your jawbone. In many cases, we'll also be able to give you temporary dentures to wear during recovery so that you can enjoy a new, stable smile right away!
---
AM I A CANDIDATE FOR ALL-ON-4 IMPLANTS?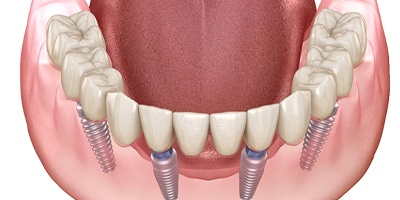 You can consider getting implant-retained dentures if most or all of the teeth in one of your arches are missing. Thanks to All-on-4, even patients who have already suffered from bone loss can still be considered for implants even without additional procedures.
That said, you will need to have good oral health overall before the surgery can be performed. If you have gum disease, it will need to be treated first. Also, certain health conditions such as diabetes can impair your ability to heal properly, so such problems also need to be addressed. Finally, if you smoke, you will need to stop before and after the procedure.
---
WHAT ARE THE BENEFITS OF ALL-ON-4 IMPLANTS?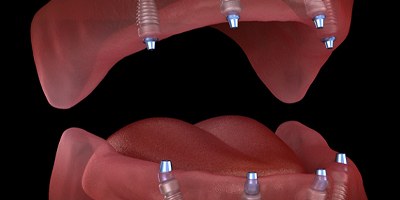 No Slipping or Changes in the Jaw: Regular dentures won't do anything to stop the jawbone from deteriorating and eventually won't fit properly anymore due to changes in your mouth. Dentures supported by implants keep the jaw strong and healthy; they'll also be held firmly in place, so they won't slip when you talk or eat.
Eat What You Want: Implants give your new teeth chewing power almost equal to natural teeth, meaning there's far fewer diet restrictions.
Long Lifespan: Dental implants can last for decades – and even a lifetime – with proper maintenance.
---
ALL-ON-4 VS TRADITIONAL DENTAL IMPLANTS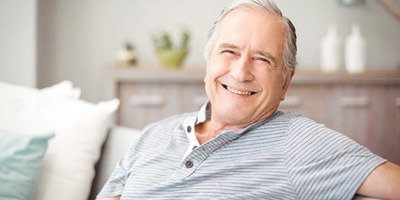 The lack of bone grafts means that getting All-on-4 implants will often require fewer visits and procedures than traditional implants. The increased stability of All-on-4 means that there's a good chance you'll be able to receive new teeth at the same time as the surgery rather than needing to wait for osseointegration to be complete.