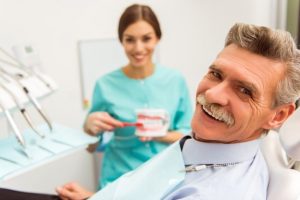 If you have dentures, you're probably smiling pretty often—they give your mouth an incredible overhaul that leaves you with a healthy, dazzling smile and boost in confidence. But did you know that your dentures can become stained and discolored over time if you don't take proper care of them? Luckily, there are steps and precautions you can take to ensure that your dentures remain white and bright for the long run. Keep reading to learn more.
How To Effectively Whiten Your Dentures
If you want to whiten your dentures safely and effectively, you have two viable options: in-office whitening and at-home whitening.
In-office whitening is considered the most effective of the two methods, which makes sense—it's carried out by your dentist in their office. They will use specialized tools to polish the surface of your dentures, removing any visible stains in a matter of minutes. This method is also so efficient that it's usually only needed twice a year!
At-home whitening is still an effective option too, but only if you use the correct products and methods. You can give your dentures an overnight soak in a non-abrasive dental cleaner; this will help to reduce minor staining. You can also use a low-abrasive hand soap paired with a soft-bristle toothbrush. Use small, circular motions to gently clean the surface of your dentures.
How NOT To Whiten Your Dentures
You should avoid certain products and methods when attempting to whiten your dentures:
At-home whitening solutions that are meant for your natural teeth often contain chemicals like bleach that are harmful to your dentures.
Abrasive cleaning products such a harsh toothpastes, cleaners, and toothbrushes with stiff bristles can scratch your dentures and compromise their shine.
Certain household solutions including glass cleaners, baking soda, lemon juice and more can all damage your dentures in addition to making you ill.
Hot water should be avoided entirely, as it will permanently warp and disfigure your dentures.
Keeping Your Dentures Stain-Free
Selecting an appropriate whitening method is important, as is avoiding certain products. However, practicing good oral hygiene habits will also go a long way towards preserving your dentures. Consider the following:
Rinse your dentures often in warm (not hot) water or an appropriate cleaning solution.
Handle your dentures with care when you aren't wearing them.
Visit your dentist regularly for checkups and cleanings.
Your dentures can completely change your smile and your life, but only if you take good care of them! Talk with your dentist if you have questions about whitening your dentures.
About the Practice
Windermere Dentistry is proud to serve the dental needs of patients and families in the Windermere area. The practice is led by the awesome team of Dr. Matthew McKissock and Dr. Rupal Thakkar, who both have several years of experience and expertise in a wide range of fields. Their practice offers many services, including dentures! If you have questions about dentures or would like to schedule an appointment, you can contact the practice through their website or by phone: (407) 909-1099.