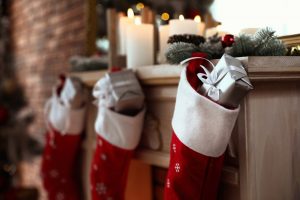 It doesn't feel like the holidays until the stockings are hung up on the mantle, but many of the most common stocking stuffers are candies that can do serious damage to your children's oral health. This year, it's time to break the mold and fill your kids' stockings with things that'll make their teeth better! Here are a few ideas for some tooth-healthy stocking stuffers.

Electric Toothbrush
Brushing is one of the most important things your child can do to prevent oral health problems. If you have younger kids, getting them to form a brushing habit and commit to it can be a challenge. Thankfully, there are electric toothbrushes that can make your kids actually want to brush! Many electric toothbrushes will play music to encourage brushing for the full two minutes. There are even brushes that can hook up to apps that turn brushing into a game!
Dark Chocolate
Many of the candies that are most popular during the holidays are packed with sticky sugars that contribute to gum disease and tooth decay. While they're far from sugar-free, chocolates tend to be a better pick for your child's oral health than candy canes and caramel. Chocolate is melty, so instead of hanging onto your kids' teeth, it'll be washed away quickly when they're done eating. If your child can handle bitter food, dark chocolate also tends to have less sugar than other candies.
Sugar-free Xylitol Gum
While most sweets can compromise your child's oral health, xylitol gum can actually improve the mouth's cleaning process by stimulating the salivary glands. That saliva will carry other food particles out of the mouth, so they don't stick around and feed the bacteria that live there. Xylitol gum comes in a wide variety of flavors and fits perfectly in your child's stocking, so it's a great substitute for some of the more dangerous candies that would normally pop up during the holidays.
While it might require a little bit more thought than just grabbing whatever candy's nearby, you can get stocking stuffers that won't be damaging to your child's oral health. With this guide, you'll be able to enjoy the holidays without worrying about cavities come January.
About Our Practice
At Windemere Dentistry, we want to offer you dental care that's a step above the rest. Unlike many dental offices, we'll take the time to understand your needs and to make you feel as comfortable as possible. Our expert dentists have outfitted our office with cutting-edge dental technology, which allows us to provide our patients with the highest quality care that dentistry has to offer. If you have any questions about how you can take care of your family's teeth over the holiday season, we can be reached at our website, or by phone at (407) 909-1099.