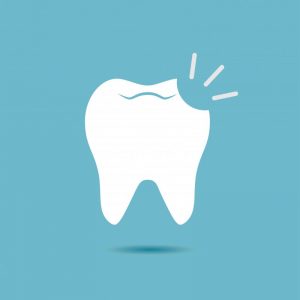 Although your tooth enamel is the hardest material in your body, it doesn't mean they're unbreakable. With just one wrong bite or a sudden blow to the face, you might find yourself experiencing a chipped tooth. If you don't immediately feel discomfort after this, you may be tempted to hold off on getting treatment in case it recovers on its own. But can a chipped tooth regenerate by itself? Keep reading to learn what you should expect from this situation and ways you can restore your smile!
Will a Chipped Tooth Heal By Itself?
While your teeth may appear like the rest of your bones, your enamel is not made up of the same living tissue. This means they won't be able to grow back on their own once they've been damaged. A chipped tooth may remineralize to strengthen itself, but lost portions will not regenerate over time. For this reason, you should consider seeking dental care, as you'll want to avoid more serious complications from starting.
The Importance of Treating a Chipped Tooth
Having a chipped tooth may not always feel like an urgent situation, especially if you aren't experiencing any discomfort or painful sensations. However, you'll need to visit your dentist as soon as possible to treat your condition. Even if the damage is hardly noticeable, your tooth will still be exposed to air and bacteria that can end up attacking your enamel. Due to constant chewing, eating, and talking, the structure can weaken over time as well as become more at risk of decay and infections.
Which Treatments Can I Get to Restore My Smile?
If you have a chipped tooth, your dentist will want to address it right away. Here are several treatments you can expect to consider when trying to restore your smile:
Direct bonding – By using a small amount of composite resin, your dentist can repair your tooth while also improving the color, size, and shape. This is the same substance used for fillings, so you can be sure to enjoy a durable and effective solution for your smile. The treatment can also be completed in a single visit, and the results can last several years.
Veneers – Your dentist can conceal multiple dental flaws at once with these porcelain shells. From stained to chipped teeth, veneers can transform the size and shape of your smile while also providing a nearly permanent whitening solution. With proper care, you can expect your new and improved smile to last 15 years or more.
Dental crowns – This durable and tooth-colored restoration is designed to strengthen and protect a moderately to severely damaged or decayed tooth. A dental crown will also seamlessly match with the rest of your smile while improving the structure of any compromised pearly whites.
If you ever experience a chipped tooth, be sure to give your dentist a call as soon as possible. They'll be more than happy to help get you back on track with a healthy smile!
About the Author
Dr. Matthew McKissock earned his dental doctorate from the University of Florida's College of Dentistry. He's also a member of the Academy of General Dentistry, and he regularly seeks advanced training to refine his skills. He offers a wide range of high-quality services, including direct bonding, veneers, dental crowns, and emergency dentistry. If you like to schedule an appointment, feel free to visit our website or call 407-909-1099.