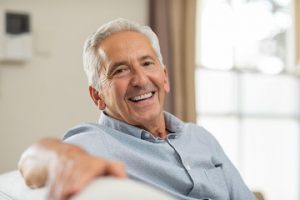 Dentures are a type of artificial teeth that are used to replace several or all of a person's missing pearly whites. They can come in a few varieties, including full, partial, and implant dentures. They can also be made of a variety of materials, including acrylic resin, porcelain, and metal. Dentures can take some time to get used to, so continue reading to learn what you can expect from your first month with your new smile.

The First 24 Hours
The first 24 hours after getting your dentures will probably be the most difficult since you may experience some soreness and discomfort. This is because your mouth hasn't gotten used to the restorations yet.
Your dentist may instruct you to wear your dentures for the first 24 hours if you had teeth extracted before getting them. After this initial period, remove them before going to sleep. This will give your gums a chance to rest and recover.
You may find it hard to adjust to eating with dentures at first. It's important to take things slowly. Avoid hard, crunchy, and tough foods. Stick to yogurt, mashed potatoes, pasta, and other soft foods that you won't have to chew until you get used to the way your new restorations function and feel.
The First Two Weeks
The first two weeks after getting your dentures will be a time of adjustment. You'll likely need to attend a follow-up appointment with your dentist. This will allow them to ensure that your extraction sites are healing properly if you had teeth pulled before getting your dentures and that they fit well.
At this point, your gums may still be sore, but this discomfort should dissipate over time. If your dentures shift a lot and don't seem to fit properly, contact your dentist. They will see if your restorations need to be re-fitted or replaced.
After Two Weeks
After two weeks, you should start to feel more comfortable with your dentures. You will be able to eat and speak more easily. You'll notice fewer sore spots in your mouth, and you will also be able to wear your dentures for longer periods of time without feeling discomfort.
At this point, you won't be producing as much saliva as you once did. Practice speaking and eating with your dentures in, at which point you may notice that you produce more saliva than usual. Practicing reading out loud is a great way to help yourself adjust. Additionally, stick to non-chewy foods until you're more comfortable using your dentures.
About the Practice
Windermere Dentistry shows how much they care about their patients' smiles by administering a variety of exceptional treatment options. This includes full, partial, and implant dentures to replace missing teeth. They can also give you advice on how to adjust to your dentures during the first 30 days. If you want to make an appointment with Dr. Matthew McKissock or Dr. Rupal Thakkar or to learn more about dentures, call Windermere Dentistry's office at (407) 909-1099 or visit their website.